Line 1:
Line 1:
 
+

[[File:Kfda-footer-logo.png|right|250px]]

 

'''KFDA-TV''', virtual channel 10, is the [[CBS]]-affiliated television station in Amarillo, Texas. The station is currently owned by [[Raycom Media]]. The station is broadcast throughout its coverage area across the Texas and Oklahoma panhandles, eastern New Mexico and southwestern Kansas over-the-air as well as cable carriage and through a network of 19 additional UHF translators in distant locations.

 

'''KFDA-TV''', virtual channel 10, is the [[CBS]]-affiliated television station in Amarillo, Texas. The station is currently owned by [[Raycom Media]]. The station is broadcast throughout its coverage area across the Texas and Oklahoma panhandles, eastern New Mexico and southwestern Kansas over-the-air as well as cable carriage and through a network of 19 additional UHF translators in distant locations.

 
 
Line 15:
Line 16:
 
 
 

On August 10, 2015, [[Raycom Media]] announced that it would purchase [[Drewry Communications]] for $160 million.<sup>[27]</sup> Drewry had originally planned to sell its stations to [[London Broadcasting]] in 2008;<sup>[28]</sup> however, by January 2009, that deal fell through.<sup>[29]</sup> The sale to [[Raycom Media]] was completed on December 1.<sup>[30]</sup>

 

On August 10, 2015, [[Raycom Media]] announced that it would purchase [[Drewry Communications]] for $160 million.<sup>[27]</sup> Drewry had originally planned to sell its stations to [[London Broadcasting]] in 2008;<sup>[28]</sup> however, by January 2009, that deal fell through.<sup>[29]</sup> The sale to [[Raycom Media]] was completed on December 1.<sup>[30]</sup>

−
 
 

[[Category:CBS affiliated stations]]

 

[[Category:CBS affiliated stations]]

 

[[Category:Channel 10]]

 

[[Category:Channel 10]]
---
Revision as of 05:42, 30 December 2016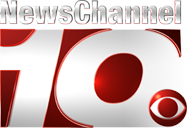 KFDA-TV, virtual channel 10, is the CBS-affiliated television station in Amarillo, Texas. The station is currently owned by Raycom Media. The station is broadcast throughout its coverage area across the Texas and Oklahoma panhandles, eastern New Mexico and southwestern Kansas over-the-air as well as cable carriage and through a network of 19 additional UHF translators in distant locations.
KFDA studios and transmitter are located on Broadway Drive in Amarillo, one mile west of Cherry Avenue.
History
The station signed on the air on April 4, 1953, several weeks after NBC affiliate KGNC-TV (channel 4, now KAMR-TV). KFDA-TV was originally owned by the Amarillo Broadcasting Company along with KFDA radio (1440 AM). It has always been a CBS affiliate,[3] but channel 10 also carried programming from ABC until KVII(channel 7) signed on in 1957; KFDA radio was an ABC Radio affiliate.[4] In 1954, the Texas State Network(TSN) acquired a 75 percent controlling stake in KFDA-AM-TV from the original stockholders for $525,000, with Charles B. Jordan retaining his 25 percent interest;[4][5] in 1958, Jordan divested his stake in KFDA-TV to TSN in exchange for full ownership of KFDA radio.[6][7] Despite this separation of ownership, the KFDA stations continued to share a base call sign until 1966, when the radio station became KPUR.[8]
During the mid-1960s, KFDA-TV acquired two satellite stations to expand its viewing area. In 1964, TSN purchased KICA-TV (channel 12), a CBS and ABC affiliate in Clovis, New Mexico, from Marshall Enterprises for $350,000[9][10] and changed its call letters to KFDW-TV.[11] The following year, KSWB (channel 8), the CBS affiliate in Elk City, Oklahoma, was acquired from Southwest Broadcasting Company for $275,000;[12] following the sale, in 1966, KSWB changed its call letters to KFDO-TV[13] and moved to Sayre.[14]
The owner of KFDA-TV and its satellites changed its name from Texas State Network to Bass Broadcasting Company in April 1965[15] (following TSN's sale of KFJZ-AM-FM in Fort Worth to a company that subsequently took on the Texas State Network name[16][17]). The following year, the Bass family (led byPerry R. Bass, who already owned 16 percent of the stations) acquired a majority stake in the company from the Sid W. Richardson Foundation (a move that followed concerns from Congress and the Department of the Treasury regarding nonprofit foundations' business interests) and Gene L. Cagle (who gave up his interest in Bass in exchange for acquiring KRIO in McAllen from the company) for nearly $2.3 million.[18]
The Bass family chose to exit broadcasting in the mid-1970s to focus on oil and gas exploration.[19] KFDO-TV was sold to Marsh Media for $300,000 in 1975,[20] and the following year changed its call letters to KVIJ-TV[21] and became a satellite of KVII-TV;[20] KVIJ ceased operations in 1992. Later in 1976, KFDA-TV was sold to Panhandle Telecasting Company (originally known as Amarillo Telecasters), a partnership of Ray Herndon, majority owner of KMID-TVin Midland, and R.H. Drewry, owner of KSWO-TV in Lawton, Oklahoma, for $2.8 million.[22][23] The KFDA sale did not include KFDW-TV,[22] which went with Bass' remaining stations to Mel Wheeler, Inc. a few months later in a $2.2 million deal;[19] after subsequent sales, KFDW would become KMCC-TV, a satellite of Lubbock ABC affiliate KAMC, in 1979, and KVIH-TV, a satellite of KVII, in 1986 (KVIH remains a KVII satellite to this day). Drewry would acquire majority control of KFDA for $3 million in 1984.[24][25]
In 2002, KFDA-TV was the first Amarillo station to simulcast in high definition. On February 23, 2011, KFDA became the first television station in the West Texas region to upgrade its local newscasts to high definition, and also upgraded its master control facilities to allow syndicated programming to be broadcast in HD.[26]
On August 10, 2015, Raycom Media announced that it would purchase Drewry Communications for $160 million.[27] Drewry had originally planned to sell its stations to London Broadcasting in 2008;[28] however, by January 2009, that deal fell through.[29] The sale to Raycom Media was completed on December 1.[30]